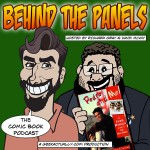 In this issue, Daredevil comes home, Alice Krige cast in Thor 2, controversy for The Avengers in Japan and on a sad note, comic legend Joe Kubert passes away. PLUS our amazing pick of the week: Pedro & Me by Judd Winnick (Square Fish).
Our next reading assignment: When The Wind Blows by Raymond Briggs.
Your Hosts: Richard Gray & David McVay
Behind the Panels is a continual work in progress, help us craft this show (via email and feedback) into the finest comic book podcast on the market. Make sure you subscribe to Behind the Panels on the link below.
Vintage Clip of the Week
Superman Says No to Smoking
Comic News
Joe Kubert Dies
http://www.newsarama.com/comics/industry-remembering-joe-kubert.html
When Obituaries Go Wrong
http://www.bleedingcool.com/2012/08/14/when-obituaries-go-wrong/
Movie News
Daredevil Reverts to Marvel! Geeks rejoice!
http://www.variety.com/article/VR1118057848?refCatId=13
What Joe Carnahan would have done
http://www.thereelbits.com/2012/08/15/daredevil-reverts-to-marvel-what-that-means-and-joe-carnahans-pitch/
Alice Krige Cast in Thor 2
http://www.bleedingcool.com/2012/08/13/alice-krige-has-a-small-part-in-thor-2-the-dark-world/
The Avengers Tagline Stirs up Controversy in Japan
http://kotaku.com/5934885/the-avengers-tagline-stirs-up-controversy-in-japan
The Rest…
Have you got something to say? We want to hear from you, send email to comics@geekactually.com or drop us a voicemail at 02 8011 3167 (Skype ID: geek actually) and we'll play it on the show.
If you are an iTunes user, subscribe for free here and please leave us feedback. The next two or three issues will also come out on the Geek Actually and Film Actually feeds to get things started.
Make sure you check out our other fine podcasts Film Actually and Film Actually News for the latest in cinema reviews and news.
Join us on our new Facebook Fan Page, follow Geek Actually on Twitter @geekactually and follow David on Twitter @davidmcvay Find more by Richard Gray by visiting theReelBits.com or follow him on Twitter @DVDbits
Make sure you check out our new range of Geek Actually swag at cafepress.com.au/geekactually
The music used for this episode is Bette Midler's "Friends".
Podcast: Play in new window | Download