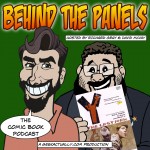 In this issue, we talk about Marvel NOW! and the latest superhero TV. THEN DC takes a digital stand, and goes overboard with the variants. Meanwhile, help reveal the Man of Steel (as what?) and Marvel takes another crack at that Phase One Box. PLUS our pick of the week: Y: The Last Man by Brian K. Vaughan, Pia Guerra & José Marzán, Jr.
Our next reading assignment: The Last Christmas by Gerry Duggan, Brian Posehn, Rick Remember and Hilary Barta.
Your Hosts: Richard Gray & David McVay
Podcast: Play in new window | Download
Subscribe: iTunes | Android | RSS
Behind the Panels is a continual work in progress, help us craft this show (via email and feedback) into the finest comic book podcast on the market. Make sure you subscribe to Behind the Panels on the link below.
Vintage Clip of the Week
 Who's Afraid of Diana Prince (1967) and a bonus clip.
What We've Been Reading/What We've Been Watching
This week Marvel Now! and continuing coverage of the TV series The Walking Dead (AMC) and Arrow (CW)
Comic News
DC Issues statement on digital distribution
http://www.bleedingcool.com/2012/11/20/dc-comics-issue-statement-on-digital-distribution-timing/
52 Covers for Justice League of America #1
http://www.bleedingcool.com/2012/11/17/justice-league/
Movie News
Reveal something exclusive from Man of Steel
http://www.superherohype.com/news/articles/173729-help-reveal-an-exclusive-from-man-of-steel
Marvel Phase One Box Redux – Now with Added Stuff!
http://insidemovies.ew.com/2012/11/20/marvel-phase-one-phase-two/
The Rest…
Have you got something to say? We want to hear from you, send email to comics@geekactually.com or drop us a voicemail at 02 8011 3167 (Skype ID: geek actually) and we'll play it on the show.
If you are an iTunes user, subscribe for free here and please leave us feedback. The next two or three issues will also come out on the Geek Actually and Film Actually feeds to get things started.
Make sure you check out our other fine podcasts Film Actually and Film Actually News for the latest in cinema reviews and news.
Join us on our new Facebook Fan Page, follow Geek Actually on Twitter @geekactually and follow David on Twitter @davidmcvay Find more by Richard Gray by visiting theReelBits.com or follow him on Twitter @DVDbits
Make sure you check out our new range of Geek Actually swag at cafepress.com.au/geekactually
Nicholas' Lego animations can be found at YouTube.com/NickyMcVay
The music used for this episode is The Rolling Stone's "You Can't Always Get What You Want" because Yorick mourns the loss of this and other bands in the series.