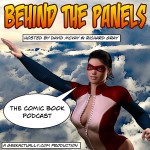 Hosted By: David McVay & Richard Gray
David and Richard discuss the latest in news from the world of comics. This week Occupy Riverdale, Mark Waid hits the web, play with the members of Young Justice, Comic-Con Episode IV: A Fan's Hope and Warner to Bleach up the big screen! All this PLUS, our kick-ass pick of the week – Fantastic Four Season One by Roberto Aguirre-Sacasa & David Marquez.
Our next reading assignment: Warlord of Mars – Fall of Barsoom.
The Show
Podcast: Play in new window | Download
Subscribe: iTunes | Android | RSS
Behind the Panels is still in beta, this issue still carries temporary music and cover art and we continue to work out format issues. We hope you will continue to help us craft this show (via email and feedback) into the finest comic book podcast on the market. Make sure you subscribe to Behind the Panels on the link below.
Have you got something to say? We want to hear from you, send email to comics@geekactually.com or drop us a voicemail at 02 8011 3167 (Skype ID: geek actually) and we'll play it on the show.
If you are an iTunes user, subscribe for free here and please leave us feedback. The next two or three issues will also come out on the Geek Actually and Film Actually feeds to get things started.
Make sure you check out our other fine podcasts Film Actually and Film Actually News for the latest in cinema reviews and news.
Your Show Notes:
Vintage Clip of the Week
Fantastic Four (1967) Animated Series
Comic News
'Occupy Riverdale' Story to Show Protests in Archie Comics
http://blog.newsarama.com/2012/02/22/occupy-riverdale-story-to-show-protests-in-archie-comics/
Mark Waid to Launch a Series of Web Comics This Summer
http://www.bleedingcool.com/2012/02/22/mark-waid-to-launch-a-series-of-webcomics-this-summer/
Young Justice Video Game Announced
http://www.superherohype.com/news/articles/169645-young-justice-legacy-video-game-announced
Movie News
Trailer for Comic-Con Episode IV: A Fan's Hope
http://www.majorspoilers.com/trailer-morgan-spurlock-comic-con-episode-iv-a-fans-hope
Warner Bros to adapt Bleach Comic
http://www.superherohype.com/news/articles/169671-warner-bros-to-adapt-manga-bleach
Giveaway!
Win one of 4 copies of AMC's The Walking Dead season one on Blue-Ray. The fine folks over at Hopscotch have given us four copies of this record breaking TV show on Blu-Ray to giveaway to you, the fine listeners of this fine podcast. To enter (and possibly win!) you need to answer the question posed in the show and then head over to theREELbits.com where Richard has all the deets and conditions. Sorry, but this is only open to residents of Australia due to region coding.
The Rest…
Join us on our new Facebook Fan Page, follow Geek Actually on Twitter @geekactually and follow David on Twitter @davidmcvay Find more by Richard Gray by visiting theReelBits.com or follow him on Twitter @DVDbits
Make sure you check out our new range of Geek Actually swag at cafepress.com.au/geekactually
The music this week is from the film Fantastic Four by John Ottman.