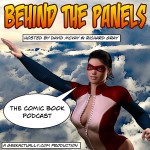 Hosted By: David McVay & Richard Gray
David and Richard discuss the latest in news from the world of comics. This week, we visit our favourite man in the log cabin Alan Moore then spin through the wonders of WonderCon. THEN Mandrake comes to the cinema, and what's next for Chronicle director Josh Trank. PLUS our kick-ass Pick of the Week: Joss Whedon's Buffy the Vampire Slayer: Season 8.
Our next reading assignment: The New 52 – 6 Months On.
The Show
Podcast: Play in new window | Download
Subscribe: iTunes | Android | RSS
Behind the Panels is still a work in progress, help us craft this show (via email and feedback) into the finest comic book podcast on the market. Make sure you subscribe to Behind the Panels on the link below.
Have you got something to say? We want to hear from you, send email to comics@geekactually.com or drop us a voicemail at 02 8011 3167 (Skype ID: geek actually) and we'll play it on the show.
If you are an iTunes user, subscribe for free here and please leave us feedback. The next two or three issues will also come out on the Geek Actually and Film Actually feeds to get things started.
Make sure you check out our other fine podcasts Film Actually and Film Actually News for the latest in cinema reviews and news.
Your Show Notes:
Vintage Clip of the Week
Vampirella (1996)
Comic News
Buying Before Watchmen? Alan Moore says stop buying his other comics.
http://blastr.com/2012/03/buying-before-watchmen-al.php
Wonder-Con 12 Updates
DC Comics/Vertigo
New 52
http://www.dccomics.com/blog/2012/03/17/wondercon-2012-dc-comics-the-new-52
Superman: Earth One Volume 2 by J. Michael Straczynski and Shane Davis releasing in November.
http://www.comicbookresources.com/?page=article&id=37605
Vertigo
http://www.comicbookresources.com/?page=article&id=37626
– The New Deadwardians as Downton Abbey meets The Walking Dead (28/3)
– Saucer Country by Paul Cornell and artist Ryan Kelly,  Dominique Laveau: Voodoo Child by Selwyn Hinds with art by Denys Cowan (21/3)
– Get Jiro, an original graphic novel co-written by Joel Rose and cook and TV personality Anthony Bourdain.
– Fables: Werewolves of the Heartland original graphic novel will finally be published this November.
Marvel
http://www.comicbookresources.com/?page=article&id=37644
– New Captain Marvel
– New X-Treme X-Men by Greg Pak in July (See also: http://www.comicbookresources.com/?page=article&id=37639)
– Hulk & Red Hulk together with Machine Man and Alpha Flight in a story illustrated by Dale Eaglesham
– Dark Avengers in June – Luke Cage will lead the Dark Avengers
Movie News
Arrow first look
http://www.thereelbits.com/2012/03/20/warner-releases-first-look-at-green-arrow-from-arrow/ 
Warner Bros. Plots Mandrake the Magician
http://www.hollywoodreporter.com/heat-vision/warner-bros-plots-mandrake-magician-298627
Josh Trank to direct Red Star
http://www.deadline.com/2012/03/chronicle-helmer-josh-trank-lands-on-the-red-star-at-warner-bros/
Feedback
Andrew Todd asks a question and Mateo Guglielmi corrects us. Thanks for all the feedback.
The Rest…
Join us on our new Facebook Fan Page, follow Geek Actually on Twitter @geekactually and follow David on Twitter @davidmcvay Find more by Richard Gray by visiting theReelBits.com or follow him on Twitter @DVDbits
Make sure you check out our new range of Geek Actually swag at cafepress.com.au/geekactually
The opening music is Nerf Herder's theme to the "Buffy The Vampire Slayer" TV series and we close with a track from "Buffy The Vampire Slayer: Once More With Feeling" by Joss Whedon.