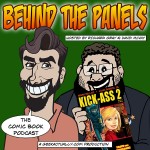 Hosted By: Richard Gray & David McVay
Each week Richard and David discuss the latest in news from the world of comics. In this issue, the Akira creator returns to comics, DC's Earth 2, Trashy Frankenstein, Marvel's Spider-Men and Oz Comic-Con. THEN It's Bats and Turtles in film news. PLUS our kick ass pick of the week is, well, Kick-Ass 2!
Our next reading assignment: Watchmen by Alan Moore and Dave Gibbons.
The Show
Podcast: Play in new window | Download
Subscribe: iTunes | Android | RSS
Behind the Panels is still a work in progress, help us craft this show (via email and feedback) into the finest comic book podcast on the market. Make sure you subscribe to Behind the Panels on the link below.
Have you got something to say? We want to hear from you, send email to comics@geekactually.com or drop us a voicemail at 02 8011 3167 (Skype ID: geek actually) and we'll play it on the show.
If you are an iTunes user, subscribe for free here and please leave us feedback. The next two or three issues will also come out on the Geek Actually and Film Actually feeds to get things started.
Make sure you check out our other fine podcasts Film Actually and Film Actually News for the latest in cinema reviews and news.
Your Show Notes:
Vintage Clip of the Week (: min)
Teen Titans in The Superman/Aquaman Hour of Adventure (1967) – "The Monster Machine"
Comic News
Akira's Katsuhiro Otomo Working on New Manga (Thanks to Nima Afshar for the spot!)
http://otakuusamagazine.com/LatestNews/News1/Akiras_Katsuhiro_Otomo_Working_on_New_Manga_4579.aspx
James Robinson talks Earth 2
http://www.comicbookresources.com/?page=article&id=37826
Arcania to tell 'Trashy' version of Frankenstein
http://www.newsarama.com/comics/archaia-frankenstein-im-not-a-plastic-bag.html
Marvel reveals more about June's Spider-Men
http://marvel.com/news/story/18390/spider-men_is_coming
Oz Comic-Con kicks off this weekend in Adelaide
http://www.thereelbits.com/2012/03/27/oz-comic-con-kicks-off-in-adelaide-this-weekend/
Movie News
Original cast member returning for The Dark Knight Rises
http://www.comingsoon.net/news/movienews.php?id=88516
Warner Bros. animation confirms CG Behind the Batman for Cartoon Network
http://www.comicsalliance.com/2012/03/28/beware-the-batman-cgi-cartoon-network-teaser-press-release/
Michael Bay posts second statement on (Teenage Mutant) Ninja Turtles aka TAINT
http://www.superherohype.com/news/articles/169997-michael-bay-posts-second-statement-on-teenage-mutant-ninja-turtles
The Rest…
Join us on our new Facebook Fan Page, follow Geek Actually on Twitter @geekactually and follow David on Twitter @davidmcvay Find more by Richard Gray by visiting theReelBits.com or follow him on Twitter @DVDbits
Make sure you check out our new range of Geek Actually swag at cafepress.com.au/geekactually
The music used for this episode is "Banana Splits" by The Dickies and "Bad Reputation" by The Hit Girls from the "Kick-Ass" movie soundtrack.