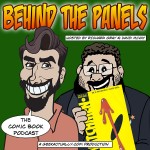 Hosted By: Richard Gray & David McVay
In this issue we start a season of holiday specials. Richard has gone to Europe for the next few weeks but we wanted to make sure you still get your Panels goodness. So we pre-recorded our kick ass Pick of the Week sections for the next few weeks and skipped all the other stuff. So, sit back and enjoy our talk about Watchmen by Alan Moore and Dave Gibbons
Our next reading assignment: Batman-Superman-Wonder Woman: Trinity by Matt Wagner with Dave Stewart.
Podcast: Play in new window | Download
Subscribe: iTunes | Android | RSS
The Vintage Clip of the Week this week is:
The Blue Beetle Radio Serial (1940)
http://archive.org/details/OTRR_Blue_Beetle_Singles
Behind the Panels is still a work in progress, help us craft this show (via email and feedback) into the finest comic book podcast on the market. Make sure you subscribe to Behind the Panels on the link below.
Have you got something to say? We want to hear from you, send email to comics@geekactually.com or drop us a voicemail at 02 8011 3167 (Skype ID: geek actually) and we'll play it on the show.
If you are an iTunes user, subscribe for free here and please leave us feedback. The next two or three issues will also come out on the Geek Actually and Film Actually feeds to get things started.
Make sure you check out our other fine podcasts Film Actually and Film Actually News for the latest in cinema reviews and news.
Join us on our new Facebook Fan Page, follow Geek Actually on Twitter @geekactually and follow David on Twitter @davidmcvay Find more by Richard Gray by visiting theReelBits.com or follow him on Twitter @DVDbits
Make sure you check out our new range of Geek Actually swag at cafepress.com.au/geekactually
The music used for this episode is "Rescue Mission" by Tyler Bates and "The Times They Are A-Changin'" by Bob Dylan from the "Watchmen" movie soundtracks.